The SoCal Antifa was made aware a few days ago that the original Laguna Beach location was wise enough to cancel on Marjorie Taylor Greene's attempt to rally her supporters here in Southern California. This victory was short lived however as Riverside Convention Center has quickly become the willing host of this dangerous rhetoric. In response to this threat, the SoCal Antifa will be releasing the following information:
Scott Megna is the acting President of the Riverside Convention Center as shown on his LinkedIn Account: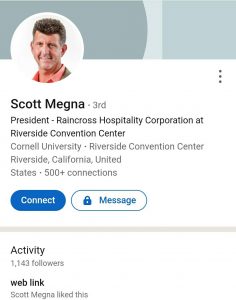 His contact info is as follows:
Personal Cellphone – (951) 275-7430
Email – scottmegna@riv-cc.com
Instagram – scott_megna
Address – 3637 5th St. Riverside, CA 92501
We suggest everyone reading this post to contact Mr. Megna and remind him that he is inviting a known predator and dangerous conspiracy theorists into his convention center which WILL attract a large and dangerous crowd into our community. We must put a stop to this before it has the chance to materialize into a greater threat.